Submit your favourite photos to win an iPad2 from Ken Rockwell
This is a great chance for those shutterbugs to submit their photos to KenRockwell and get his verdict! Ken's website is running a photo contest from 1st February until 15th March 2012, and the winner will walk away with a new iPad2 courtesy of Adorama. The final and only judge is Ken Rockwell. If you still do not know Ken Rockwell, he is one of the popular online photo critics who runs not only the highly recognised photogarphy website but also various photography workshops for all photography hobbyists out there.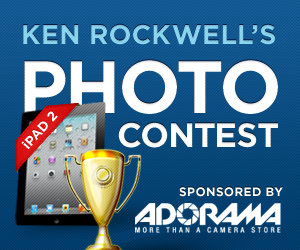 As Ken mentioned in the contest page,
"Upload your boldest, most powerful, simplest, most brilliant, strongest and most eye- and brain-catching image. The image that looks best — to me — out of the top 25 voted wins. Astonish me. Show me something I've never seen before, or show me the same old thing in a brilliant new way, just be sure that your image has something interesting to say."
His requirement seemed to be simple but actually not. The competition is going to be really tough as there are countless photo talents out there who are able to take strong and eye catching photos from the simplest photo gears that are carried along with them, especially in this digital photography era where even phone cameras are capable of taking great photos.
In order to outshine others, photographers now need to work harder and be more creative to produce somethings that Ken has never seen before.
Is this different enough? I doubt so. I'm going to pack my stuffs and start creating more exciting photos to join the contest! If you think you have something great to share with Ken, submit it to Ken now. iPad2 might be alluring, but compliments from a pro photographer like Ken is definitely more satisfactorily! Good luck. 🙂 – Cecil Lee Photography